[edit]
Overleaf V2
You can click the right most 'archive' icon across from the project name on the dashboard. Once it is in the archive, you can delete it permanently by visiting the Archived Projects folder, selecting the tick-box next to the project(s) you wish to delete, and clicking "Delete Forever."
[edit]
Overleaf V1
If it's a v1 project (i.e. there's a 'V1' label before the project name), you can return to the Overleaf v1 Dashboard to delete/purge/rename/clone it, by clicking on the "Go back to v1" link in the banner, on the lower left of the v2 Dashboard.
You can then remove the project from your V1 dashboard by clicking its Trash icon on the right hand side of your My Projects dashboard, which will then be moved to your "Trash" folder.
Projects in the "Trash" folder will stay there, until you choose to either Restore, Leave or Purge it (click on the downward-pointing triangle next to each project to see the Leave and Purge options):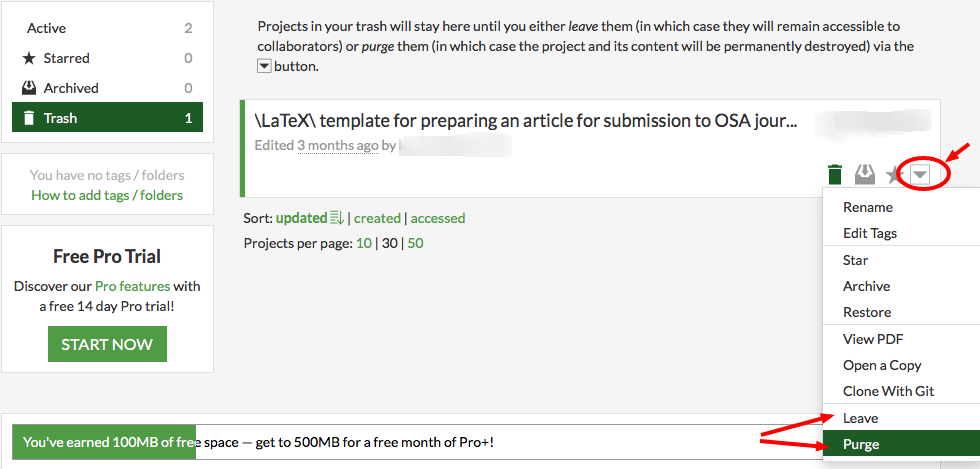 You can recover your project from the trash by clicking on the Trash filter on the left hand side of your My Projects dashboard, and then clicking the project's Trash icon a second time to restore it to your dashboard.
If you leave a project, the project will be immediately removed from your dashboard and Trash, but existing and new collaborators with the URL will still be able to access and edit it. The project will no longer count towards your storage quota. If you later visit the project by its URL, it'll be added back to your project dashboard again under as "Active".
If you purge the project is made unavailable; no-one can access the project anymore. Note that you need to be the project's owner and/or it must be no longer on any other collaborator's dashboard, to purge it. The project will no longer count towards your storage quota. Purging a project cannot be undone: there will be no way to recover the contents.