Writefull for Overleaf checks grammar and gives language feedback on the text you write in Overleaf. Using language models trained on millions of journal articles, Writefull corrects grammar, vocabulary, punctuation, and more. Writefull is specifically designed to provide language suggestions for research writing. Writefull for Overleaf is a Chrome extension provided by Writefull, it is not provided or maintained by Overleaf. Both Overleaf and Writefull are part of Digital Science.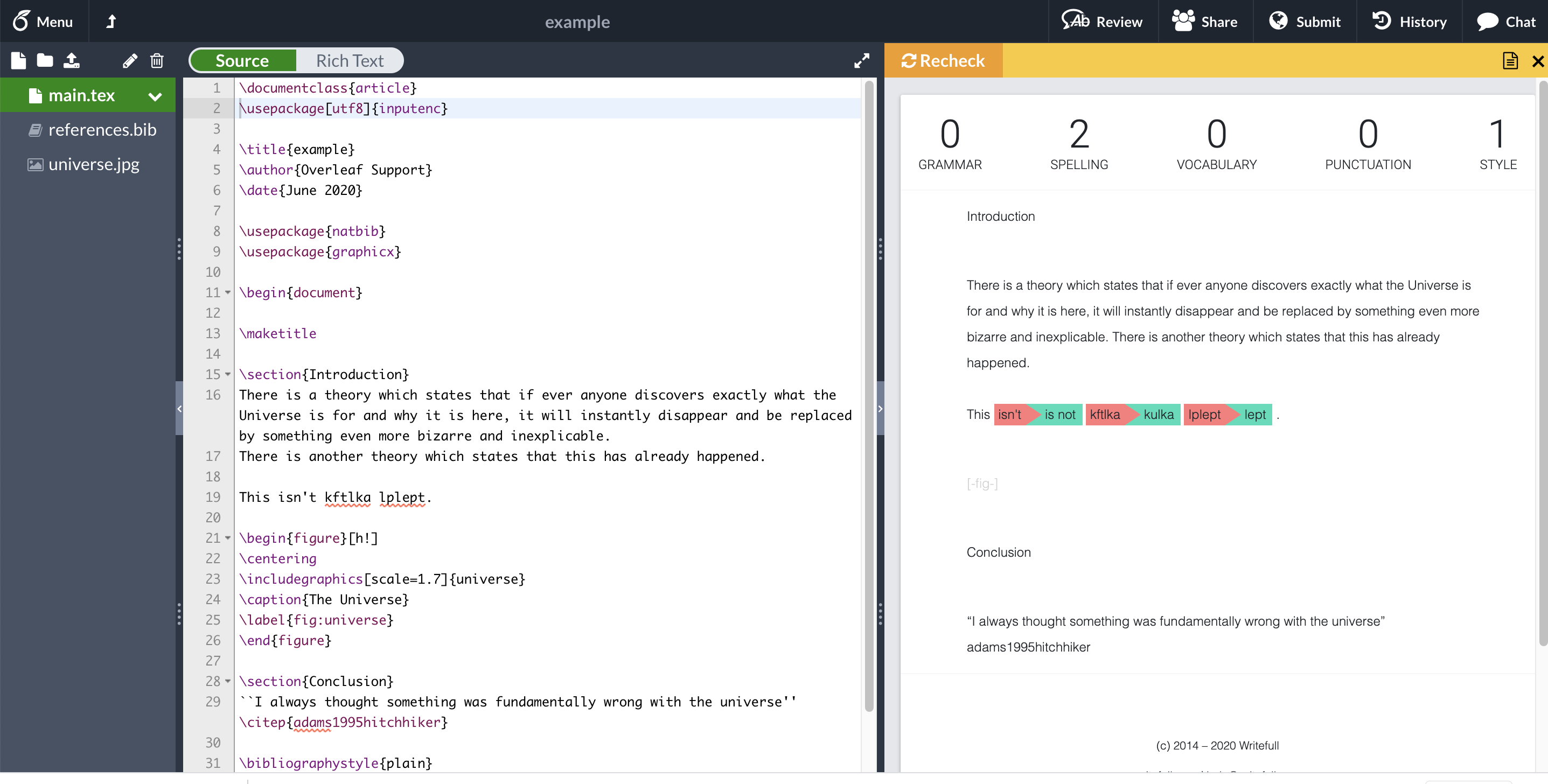 When installed and requested to check a portion of your LaTeX source, Writefull's language check pane will appear next to the Overleaf source pane, and will show the suggestions for the section of text currently visible in the editor.
Where can I get it?
Writefull for Overleaf is not part of Overleaf itself, but is offered as a Chrome extension by Writefull. It is currently available in beta from the Chrome web store and from the Writefull website, writefull.com.
How do I use it?
Once you have installed the Writefull for Overleaf Chrome extension, the Writefull icon will appear on the top right-hand side of your PDF output.
After opening the editor to view the .tex files that you would like to check, simply click on the icon to request Writefull's language check.
In most cases, you can apply the language corrections to your LaTeX source with a single click. The changes will then be made to your LaTeX source.
Step 1: Identifying the source you wish to check
Because Writefull scans your source files, you must navigate to the section of a specific .tex file that you wish to check.
Writefull for Overleaf is intended to be used for active reviewing - it doesn't produce an overall output showing problems with your finished paper, but instead is used section by section. This helps facilitate active revision, where you can look at each section of text and see Writefull's suggestions, helping you learn more about how to use research language as you use the tool.
Step 2: Launch Writefull
Click on the Writefull icon to see your text with language feedback from Writefull for the text you are currently viewing in the Overleaf Editor. When the Writefull Chrome extension is installed and enabled, the Writefull icon will appear at the top right of the Overleaf editor window.

Writefull's language check pane will appear next to the Overleaf source pane, and will show the suggestions for the section of text currently visible in the editor.
At the top of the Writefull pane, you can see how many suggestions Writefull gives across five categories: grammar, spelling, vocabulary, punctuation, and style. These metrics give you a quick view of your text's language correctness.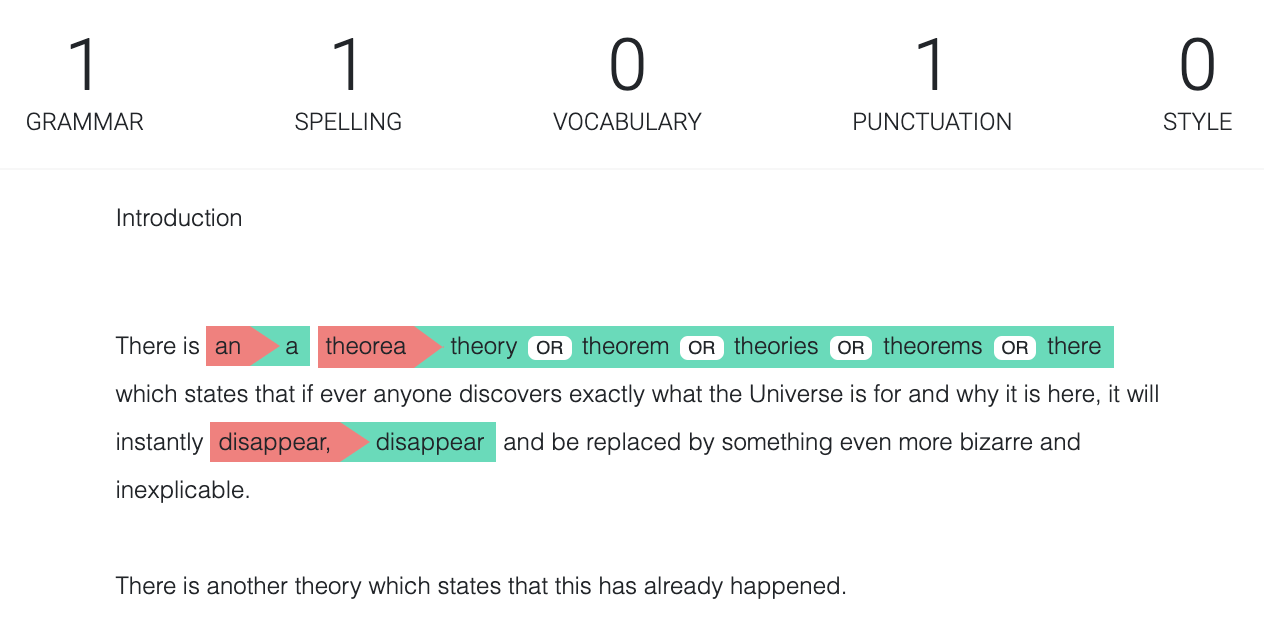 The language suggestions are shown within the text: in red is your original text, and adjacent to it in green is Writefull's suggestion. You can use these suggestions to revise your text.
Step 3: Accepting Writefull's suggestions
You can accept Writefull's suggestions simply by clicking on each suggestion shown in green. You can always undo the change by clicking the undo arrow. If you don't agree with a suggestion, simply ignore it. If you don't accept a suggestion, no changes will be made to your source text.
You can repeat the above process on any sections of your text that you want to receive feedback on. The Writefull pane can be closed at any time, and the Recheck button can be used to run Writefull's language checking again on your updated text.
About Writefull's Suggestions
Incorporating insights from linguistics, Writefull's deep learning models have been trained on millions of academic papers, and is specifically focused on providing meaningful language suggestions for academic writing. Writefull for Overleaf is LaTeX-aware, allowing you to apply Writefull to .tex documents that include LaTeX commands as well as written text.
With this in mind, it is important to note the following.
Always carefully check Writefull's suggestions!
In some rare cases, Writefull makes mistakes. For example, it may try to fix one sentence in two ways, and thereby create a new error. In the phrase 'the paper suggest', for instance, Writefull might suggest to change 'paper' into 'papers', and 'suggest' into 'suggests'. While accepting one of these two suggestions corrects the phrase, if you accept both suggestions, you get another incorrect phrase ('the papers suggests'). So always check Writefull's suggestions well.
Sometimes Writefull notifies you without giving suggestions
In some cases, Writefull highlights things in your text for you to reconsider. For example, it may advise you to check the spelling of a word. This type of suggestion shows up in grey and looks like this:

In these cases, you need to change the text yourself, in your own document. (Rewriting is not possible in the report.)
Sometimes Writefull cannot apply suggestions to your document
When clicking on a suggestion to accept it, you may sometimes find that Writefull tells you it is unable to find associated text in the Source pane. This means that instead of Writefull incorporating the accepted suggestion directly into the text, you will have to apply the change manually within the LaTeX source.
Parts of your text are not shown in Writefull for Overleaf
Writefull reads your LaTeX source and compiles it to plain text before producing suggestions. In doing so, the following elements are omitted:
some symbols and mathematical formulas,
tables, figures and text boxes,
your reference list,
section numbers and bullet points.
The report might show you placeholders instead, like [-ref-] and [-math-]. Don't worry - these are all kept intact within the LaTeX source and PDF output.
Where can I learn more?
Please visit Writefull's website, writefull.com for more information about the Writefull for Overleaf Chrome extension.
Where can I get help or provide feedback?
If you have any questions, please get in touch with support@writefull.com.