Figures, HackScience and HipDynamics - winners of the latest Digital Science Catalyst Grant
With our next #FuturePub just around the corner (it's next week!), we thought we take this opportunity to take a glimpse into the possible future of science and publishing tech a few days early. Step forward Figures, HackScience and HipDynamics - all three are winners of the latest Digital Science Catalyst Grant.
What's Overleaf's involvement? Well, aside from sitting only a few desks away from the team that runs the grant programme, we actually applied for a Catalyst Grant many years ago! And despite us failing in that early attempt, Digital Science did go on to become our lead investor :) So you can view us as an example of how it's not the end of the world if you don't make it first time around!
The three winners...
You can read more about each winner in the official announcement, or visit their respective websites linked to below:
Figures
A workflow solution to manage figure data including creation, tracking, editing and discussion – all on one platform.
Website: https://www.scientificfigures.co/
HackScience
A platform enabling scientists to create, share and control open and affordable lab automation tools.
Website: http://hackscience.io/
HipDynamics
A data set interrogation tool in the field of cell and molecular biology.
Website: http://hipdynamics.com/
About the Catalyst Grant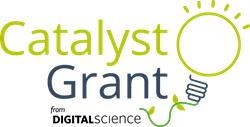 The Digital Science Catalyst Grant is an international initiative to support the innovation of new software tools and technologies for research. The program supports and invests in early stage ideas in the novel use of information technology in research, with an award of up to $25,000 for the most promising ideas to aid science and further education research.
For more information, and to apply for the next grant (submissions due by the 30th June 2017), please visit: http://www.digital-science.com/what-we-do/start-up-investment/catalyst