Free trials are here!
From today you can start a free 14-day trial of the Pro plan - it gives you full access to all the Pro features such as version comparison, access-controlled documents, LaTeX auto-complete and more.
You can start your free trial whenever you like - there's no credit card or extra information required, simply click the button in the Pro column on the plans page and your trial will start automatically: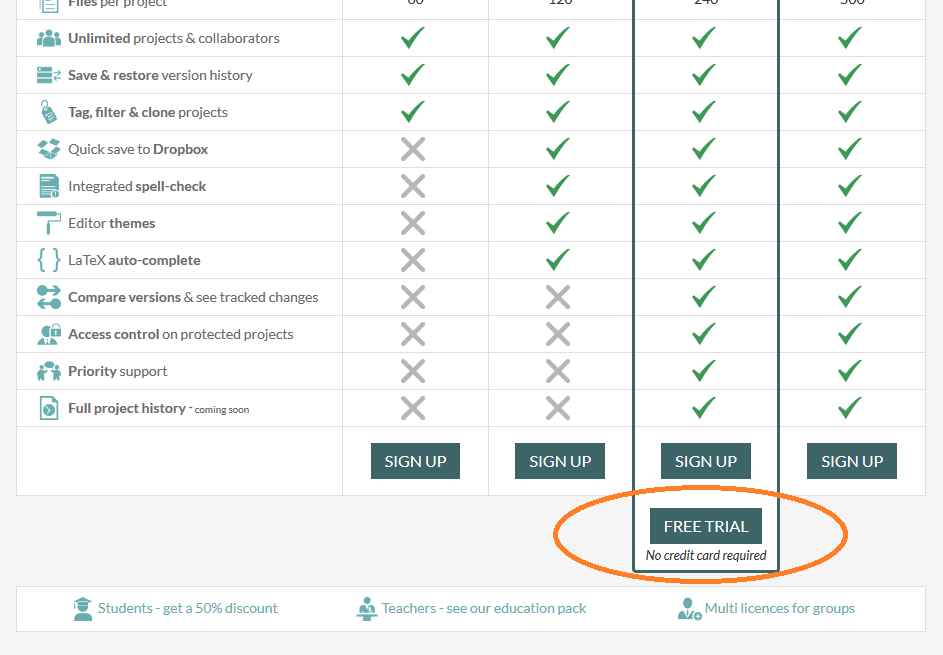 Q&A
Why free trials? We've had a lot of requests from users keen to try out the advanced features of writeLaTeX before upgrading to a paid plan, and having a simple option to start a trial with no fuss seemed to be the easiest solution.
What happens when the trial ends? After the trial, your account will revert back to the free plan automatically unless you choose to upgrade. If you choose not to continue with Pro, you'll no longer be able to create new protected documents, but any protected documents you create during the trial will still be accessible and editable.
If I've already had a trial, can I start another? We've launched a lot of new features since our previous free trials were available, and so if you had a free trial last year you can still activate a new trial now. Once you've tried out Pro this time around, you'll be unable to start another with the same account, but feel free to get in touch if you'd like to request an extension to the trial period for a specific reason.